Tawana Services Development & Cultural Organization which is hereinafter referred as (TSDCO) is a uniliteral, non-political, impartial national organization based in Herat, operates in western region provinces of Afghanistan. The TSDCO has established at the beginning of 2007 by a number of social activists in Qala-e-Naw city, Badghis province Afghanistan to help the Afghan needy and deprived people in western region provinces. The TSDCO was officially registered in Ministry of Economics of the Islamic Republic of Afghanistan on 18/07/2012 with the registration number of 2680. TSDCO aims to contribute in socio-economic development of the country and well-being of Afghan nationals through provision of live-saving emergency assistance, recovery, development and resilience building initiatives and activities. TSDCO aligns its strategy and performance in accordance with Sustainable Development Goals (SDGs) as Afghan government is fully committed to achieve them particularly in SDG #1 (No poverty), SDG #2 (Zero hunger), SDG #4 (Education), SDG #5 (Gender equality) and SDG #6 (Clean water). TSDCO has established strong communication and coordination mechanism at community, district, province and regional level to make sure that the hard to reach areas are accessible and most vulnerable and in need families are targeted and their basic and urgent needs are addressed through timely and adequately response and assistance. TSDCO values the volunteerism and TSDCO has already shared its resources during emergencies in western region and the organization is fully prepared to share it resources including human resources, vehicles and offices to any emergency situation to save the life of Afghans and reduce their suffers.
Since the establishment in 2007 till 2012, TSDCO performances/achievements relied on only volunteerism in Badghis province and the organization was providing services such awareness raising, community dialogues on women's rights, gender based violence (GBV), community mobilization to keep the school, homes and villages clean, conflict resolution and peace building through providing atmosphere for negotiation, discussion and finding resolution of conflict-creating issues. Meantime TSDCO celebrated the International and national days such March the 8th, Nov the 25th, 10th Dec, 28 Asad (Afghanistan Independence Day) in Badghis. In addition, the TSDCO conducted competition in schools among the students and the top winners were awarded. TSDCO also was mobilizing the private sectors entities, merchants and anchors to contribute financially in TSDCO voluntarily activists. TSDCO was also providing hygiene kits for prisoners in Badghis Jail within national and religious days and private sector entities and merchants were providing free-in charge hygiene kits for TSDCO to distribute to prisoners.
After officially registration of the organization in Ministry of Economics of the GoIRA, TSDCO has been collaborating International and national donating agencies in western region of Afghanistan in accordance with the organization strategic plan and donors' requirements.
TSDCO is fully prepared to support our current donors and those who are interested to support local NGO such TSDCO as partner in remote districts and provinces. Volunteerism is our the most important value and we prude on our value which enables us to contribute in saving the life of our Afghan national including male and female who are in need and seek assistance
Vision Statement
Developed, poverty and violence free Afghanistan where all Afghans regardless of their race, religion, tribe and gender live with dignity through fair and adequate access to fundamental rights and services
Mission Statement
Improving socio-economic well-being of Afghan people including women, men, children, person with disabilities, elderly and other marginalized groups through providing adequate life saving emergency assistance, recovery services and contribute in development and resilience building of Afghan families and communities in an appropriate and sustainable manner. 
TSDCO Values
Volunteerism
Transparency and accountability to affected population
Respect to human rights, women rights, rights of children and other vulnerable groups rights
Gender equality
Professionalism
Vulnerable people focused
TSDCO Objectives
Elaborate livelihood and income generation of Afghan people including returnees, IDPs and most vulnerable host community members through providing skill development and micro business support in west region provinces (in line with SDG# 1)
Contribute in life-saving food security of conflict and natural disaster affected families in western region of Afghanistan through providing adequate and timely food assistance for most vulnerable food insecure families in displacement and place of origins areas (in line with SDG# 2)
Enhancing the access to education for children as the one of the fundamental rights for children at the age of the school and those who have been deprived school due to conflict and displacement through establishment of community-based schools and adults learning courses in western region provinces (in line with SDG #4)
Increasing respect to human rights, women rights and prevention and response to gender-based violence in western region provinces through provision of awareness raising activities, community dialogue and enhancing responsiveness on gender-based violence and gender equality (in line with SDG #5)
Improving access to safe drinking water, sanitation services and hygiene practices and clean community through mobilization of citizens in according to community based total sanitation (CLTS) in western region provinces (in line with SDG # 6)
Contribution in development and resilience building of Afghan families and communities through durable solution initiatives such prominent shelter, WASH facilities, DRR and mitigation initiatives in western region province in next 5 years
TSDCO coverage areas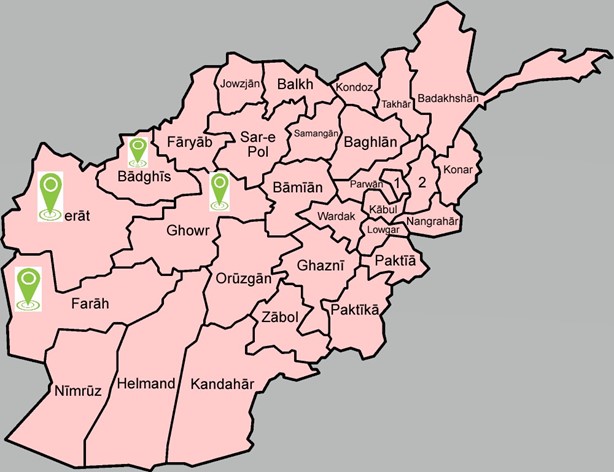 Our Donors
World Food Program (WFP)
International Organization of Migration (IOM)
Coordination of Rehabilitation and Development Services for Afghanistan (CRDSA)
US Embassy Kabul
ASGP – US
Organization Codes of Conduct
Treat Afghan people including male, female and children regardless of race, gender, language, religion, ethnic or social origin, disability.
Preserving impartiality, neutrality and independently identity of TSDCO.
Respect humanity, morality, accountability and rules of law and follow their norms.
Provide safe and secure work place atmosphere where all beneficiaries including TSDCO staff feel safe and comfort.
Respect dignity of Afghan families who benefiting from TSDCO project in the field in terms of respect their traditions, privacy, confidentiality.
Execute ZERO tolerance policy against any SEA (Sexual Exploitation and Abuse) particularly on contracted staff members.
Not use language or behavior toward male, female and children that is inappropriate, harassing, abusive, sexually provocative and demeaning or culturally inappropriate.
No engage children under 18 in any form of sexual activities including paying for sexual services or acts.
As a women own NGO, respecting women and protecting their rights is the top priority of the TSDCO.
Respect the community culture and people positive traditions.
Inclusive planning and execution of TSDCO program and performances to make sure the women, men, children, PWDs, minorities, isolated populations and elderly are included in TSDCO program and performances.
Mainstreaming gender in all TSDCO activities and targeting toward gender equality.
Including beneficiaries in proper planning and execution to address the needs of vulnerable people appropriately.
Comply with all relevant legislation, including labor law in relation with child labor.
Report immediately concerns or allegation of child and women exploitation and abuse in according to appropriate procedures.
Disclose immediately all changes, convictions, and other outcomes of an offence, occurred before or occurs during my association with the Direct Aid Program that relate to child and women's exploitation and abuse.